Stacey Triplette
Assistant Professor of Spanish and French
University of Pittsburgh at Greensburg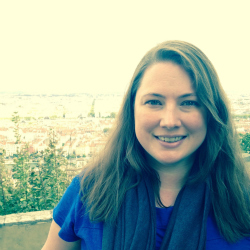 Stacey Triplette researches medieval and early modern European literature and culture with a focus on sixteenth-century Spain. Her interests include Cervantes studies, early modern European literary markets, translation, gender, and digital humanities. Her book, Chivalry, Reading, and Women's Culture in Early Modern Spain, is forthcoming from Amsterdam University Press. This book challenges received wisdom about the decline of Iberian chivalric romance by showing how the representation of literate women in Spain's most famous romance of chivalry guaranteed it a long series of afterlives in Don Quixote and in other early modern imitations, translations, and adaptations from the Iberian Peninsula.
Her articles have appeared in Cervantes: Bulletin of the Cervantes Society of America, La corónica: A Journal of Medieval Hispanic Studies, and Bulletin of Spanish Studies. She is the principal researcher for two digital projects on early modern Spanish literature, the Amadis in Translation Project and the Lope de Vega Project. She holds a PhD in Romance Languages and Literatures from the University of California at Berkeley.
In the Spanish program at the University of Pittsburgh at Greensburg, Stacey Triplette teaches elementary to advanced language as well as advanced courses in composition, phonetics, literature, and film. Outside the Spanish program, she teaches French language, Spanish literature in translation, and medieval and Renaissance English literature.